My husband's grandmother was 90 recently and I decided to make her a quilt to mark the occasion. I wanted to make something simple in colours which reflected her bright and fun personality.
I made a small change in that I switched the sizes for the patterned and background fabrics, meaning my coloured strips were 10 inches and my grey strips were 8 inches. I did this to make the most of the fat quarters and mini jelly roll I had.
I chain pieced the units together and I very quickly had a sew of 42 rows.
I then had a top ready for basting...
I pin baste on the floor, using masking tape to anchor the three layers. I do like the convenience of 505 spray, but found it left a mark on a recent project. Perhaps I was holding it too close?
I read some advice on pin basting which said you should not be able to lay your hand flat on any area of the quilt without feeling a pin. If you can, add more pins!
I bound it with some purple fabric I had in my stash using a two inch strip. I went for this because it maximised the fabric I had, but also meant the stitching on the back was pretty much in the ditch (where I managed to keep it straight enough).
Finally, I gifted it to a very special lady!
Linking up with:
Quilt Story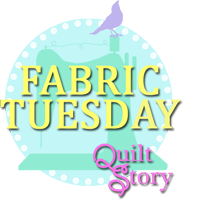 Sew Fresh Quilts
My Quilt Infatuation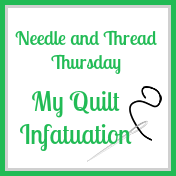 Thank Goodness it's Finished Friday